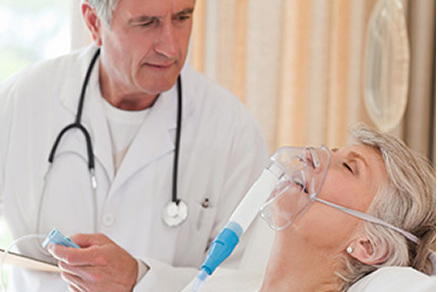 The most common patient group with respiratory illness that requires home health care services are individuals with chronic obstructive pulmonary disease (COPD). Patients with paralytic syndromes also have significant respiratory care needs. Patients who are discharged requiring home health care must demonstrate complex medical needs or have comorbidities of COPD and chronic heart failure.
The best way to address the needs of home care individuals requiring respiratory therapy services is to approach it using a patient-centred and family oriented model. Using this design, the provision of care starts within the context of the patient as the focus, and the home care service provider, such as the respiratory therapist, as the visitor in that environment.
Individuals managed in the home require a variety of specialists to be involved in their care, and a patient requiring home health services for respiratory care will have an interdisciplinary team involved in the management plan. Generally, the expectation is that home health service providers are able to assist patients with daily treatment of respiratory disease, identify and understand complications and educate on the safe use of respiratory equipment. Respiratory care services provided in the home setting are not traditional, and there are several advantages and disadvantages. Improvements to quality of life, positive behavioural changes and reduction in hospital stays are all advantages to home health care. Some of the disadvantages are related to burden of care, home setting suitability and the availability of funding.
There is an assumption that patients living with chronic respiratory disease gain an advantage when being managed in the community or from their own homes. The ingrained general belief of health care providers is that discharging a patient from a hospital setting to a community or their home is beneficial. Patients with COPD receiving home care have reported improvements in health-related quality of life, which includes functional status, symptoms and overall health perceptions. There has also been evidence supporting positive health behavioural changes that arise as a result of home care respiratory therapy. After only a modest amount of education in disease pathology and medication, patients receiving regular visits from a respiratory therapist have a greater rate of smoking cessation compared with patients not receiving home respiratory therapy. Other lifestyle changes that have been documented as a result of COPD management using home care services include energy conservation strategies, which help cope with exacerbations, relaxation and breathing techniques, and regular exercise.
Services / therapies we Provide
Respiratory Evaluations
Oxygen Therapy
CPAP Therapy
BIPAP Therapy
Nebulizer Therapy
Overnight Pulse Oximeter Studies